Tim Wynne – Bass, Vocals and Band Leader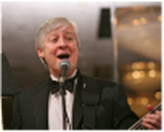 Tim has been performing in professional bands since he was 14 years old.  Over his career he has joined forces with several of DC's best musicians, several of whom have gone on to perform and record in top national acts.  However, Tim chose to stay in the DC area to balance his love for playing music with a career as a CPA in the thriving government contracting industry.
After high school Tim served in the First US Air Force Band in Washington DC.  Next he played for five years in DC's legendary band, Sinbad, while earning his degree in accounting from Georgetown University.  After graduation, and starting a "day job" career, Tim joined Odyssey and has been the group's mainstay on bass and vocals now for over twenty five years.
As Band Leader, Tim's focus is to work closely with each client, the venue and the event's food caterer to ensure a smooth flow based on good communication.  Tim and front man Prince will work together to keep the evening running smoothly.